Release 13.9.7 is ready, and with this one we added the capability of calculating automatic Isochrones.  Wait, what? Ok, perhaps this one needs a little contextualization.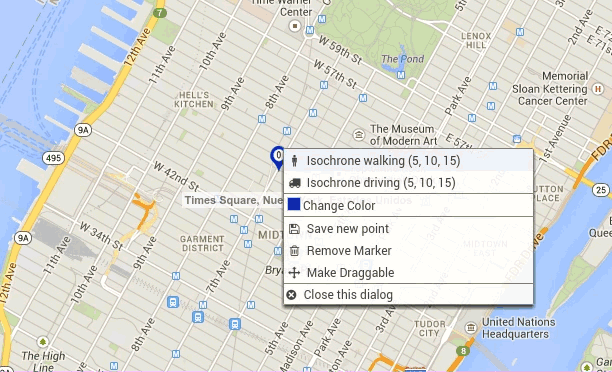 Isochrones can be defined as those boundaries delimiting how far can you go from a given origin in a given timespan. In the example above, if you were standing at NY's famous Time Square, how far could you walk in 5 minutes, 10 minutes and 15 minutes?
This kind of question is of vital importante to define, for example, the optimal spot to open your new cofeeshop, because perhaps you can't affort to be exactly at Times Square, but as long as you are 5 minutes away from such an important point of interest, you will still catch a lot of visitors. On the opposite, if pick a place with a very low rent, but you are over 15 minutes away from any important landmark, chances are you'll be serving coffee to tumbleweeds.
Usually, isochrone calculation requires you to hire a specialist, who in turn might even hire people to do the actual walkaround to determine the isochrone boundary. At instaGIS we'd like to automate this calculation to ease your desicion making process.
Isochrone calculation is available at 5, 10 and 15 minutes interval for walking and driving modes. Both of them use Google Directions  API, so we're confident the timelapses and chosen routes are pretty accurate.